With the five (5) Maqasid Syariah elements being the base guiding principles, the main objective of all the Sustainable Development Projects in IIUM is to achieve balance and harmony between the five (5) areas of critical importance for humanity and the planet i.e. people, planet, prosperity, peace, and partnership as determined by the United Nations.
The IIUM Sejahtera Index acts as a bridge between the Maqasid Shariah and the IIUM Sustainable Development Goals activities. It connects the two in a simple formula as below:
 This simple Sejahtera Activity Index simply indicates the status of SDG activities within the IIUM.  
IIUM SEJAHTERA INDEX SCORE
STARTING THE BALL ROLLING
 All these projects were aimed at generating a balanced institutional community inculcated with strategic values to uphold the IIUM vision and mission. Handful challenges had been faced since all the 16 projects were implemented in the year 2020.
Putting new ideas forward to create great ripple effects that could touch many hearts and souls is definitely not an easy task, especially when it demanded tremendous supports in terms of resources.
 THE FINANCIAL TABOO
All activities must financially be supported by the university.

How to help the poor without money.
THE STAFF
We care but we don't have time / money

We are too pre-occupied with office works to allow us to squeeze in community works.

We have no idea how to help / give a hand.

Working together is impossible

Potato couch (obesity & aging factors)

Things are too difficult / technical

Integrity issue – Missing in action / free riders.

Lack of creativity, programmes should always be work related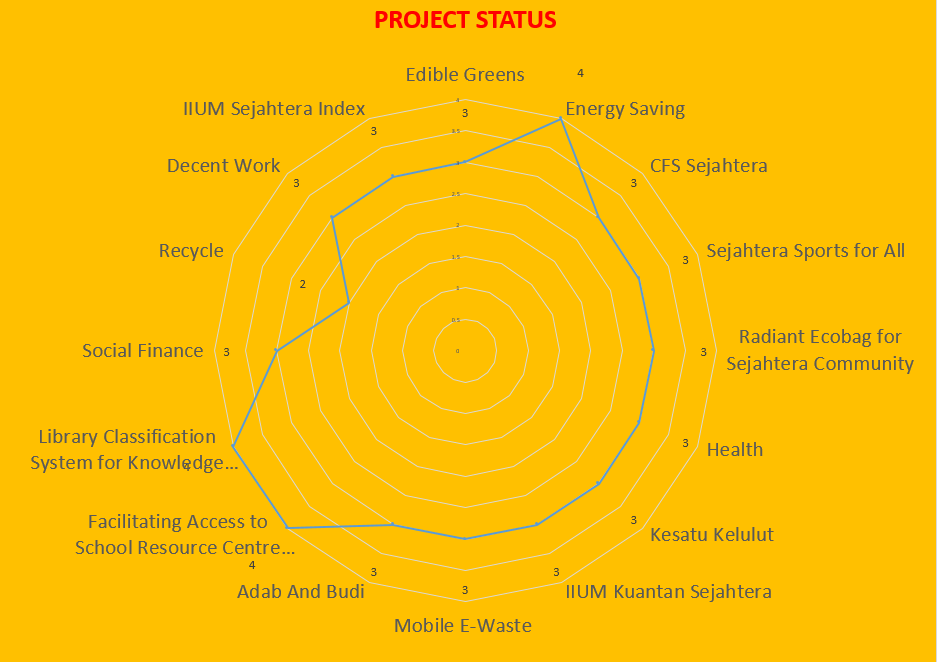 CHANGING THE END GAME
Changing the traditional mind set "No money no talk" into "Zero to Hero"

Getting potato couch out of the couch through togetherness/ukhuwah.

Sharing is caring – Sedeqah not necessarily in money terms.

We always have extra (time, hand, brain, energy, etc)

Creativity outburst.

Create positivity of focus :

changed from "What we can't to what we want"

changed from "What we do not want to what we want to"

Learning new technical skills is not impossible at any age at all.

Office as a fun place & looking forward to be.

Making the impossible into possible. 

Making offices and status difference irrelevant.

Traditional learning to hands on learning.

Enhance networking (know each other and works better).

We start learning to trust each other, empower responsibility to produce wonders. To walk fast better walk alone but to walk farther, you must walk in group.

 

Supervision still possible since projects are small scale and near to the office area.
CONCLUSION
Even though the majority of the projects were carried out on a small scale basis and have less significant long-term financial returns, it is undeniable that SDG activities had created a personality & work-life balanced IIUM community that supports each other.